Welcome to the Frog Family Fun-Packs Resource Center. Here you will find downloadable teacher resources for your Frog Family Fun-Pack program. Most of the resources provided on this page are included in each Family Fun-Pack set, but in case you need additional copies, we've provided them here for your convenience.
---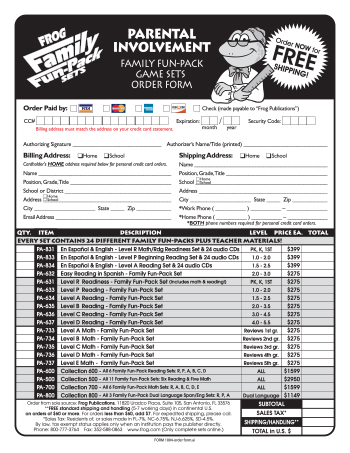 Frog Family Fun-Pack Order Form
Use this form to order Frog Family Fun-Packs for your school.
Download (1 MB PDF)
---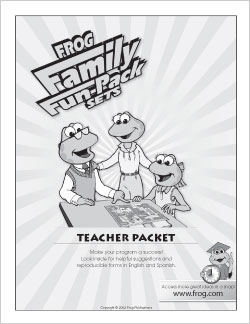 Family Fun-Packs Teacher Packet
The Family Fun-Pack Teacher Packet contains ready-to-use letters to parents, open-house suggestions, a handy checkout record, parent communication/evaluation forms and suggestions for success. It is complete and ready to use!
Download (1.3 MB PDF)
---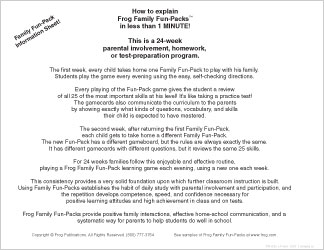 Family Fun-Packs 1-Minute Explanation
Explain the Family Fun-Pack program in one minute flat using this handy 1-Minute Explanation!
Download (441 KB PDF)
---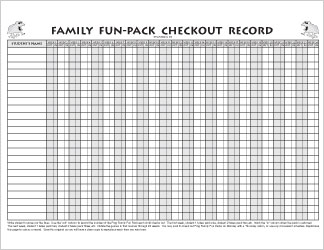 Family Fun-Packs Checkout Record
Use this handy checkout record to keep track of your Fun-Packs!
Download (454 KB PDF)
---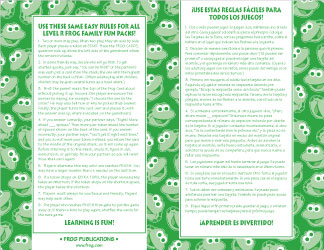 Family Fun-Packs Game Instructions
All Family Fun-Packs use the same simple rules and directions. These simple instructions are in English and Spanish!
Download (853 KB PDF)
---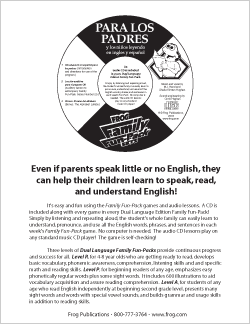 Family Fun-Packs Dual Language Audio CD Info Sheet
Even if parents speak little or no English, they can help their children learn to speak, read and understand English. It's easy and fun using the Dual Language Family Fun-Pack games and audio lessions. This sheet contains information about the Listen and Repeat auditory lessons on CD that accompany every Dual Language Family Fun-Pack Set.
Download (482 KB PDF)
---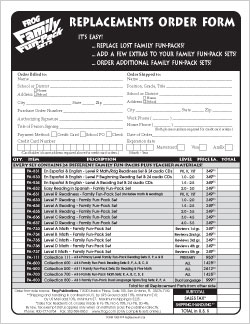 Family Fun-Packs Replacements Order Form
You may be delightfully surprised that very little, if anything, may need to be replaced with your Family Fun-Packs, but in the rare circumstance you need replacement parts, use this Replacement Order Form. Replacement packs are available only to those who have purchased sets.
Download
(647 KB PDF)